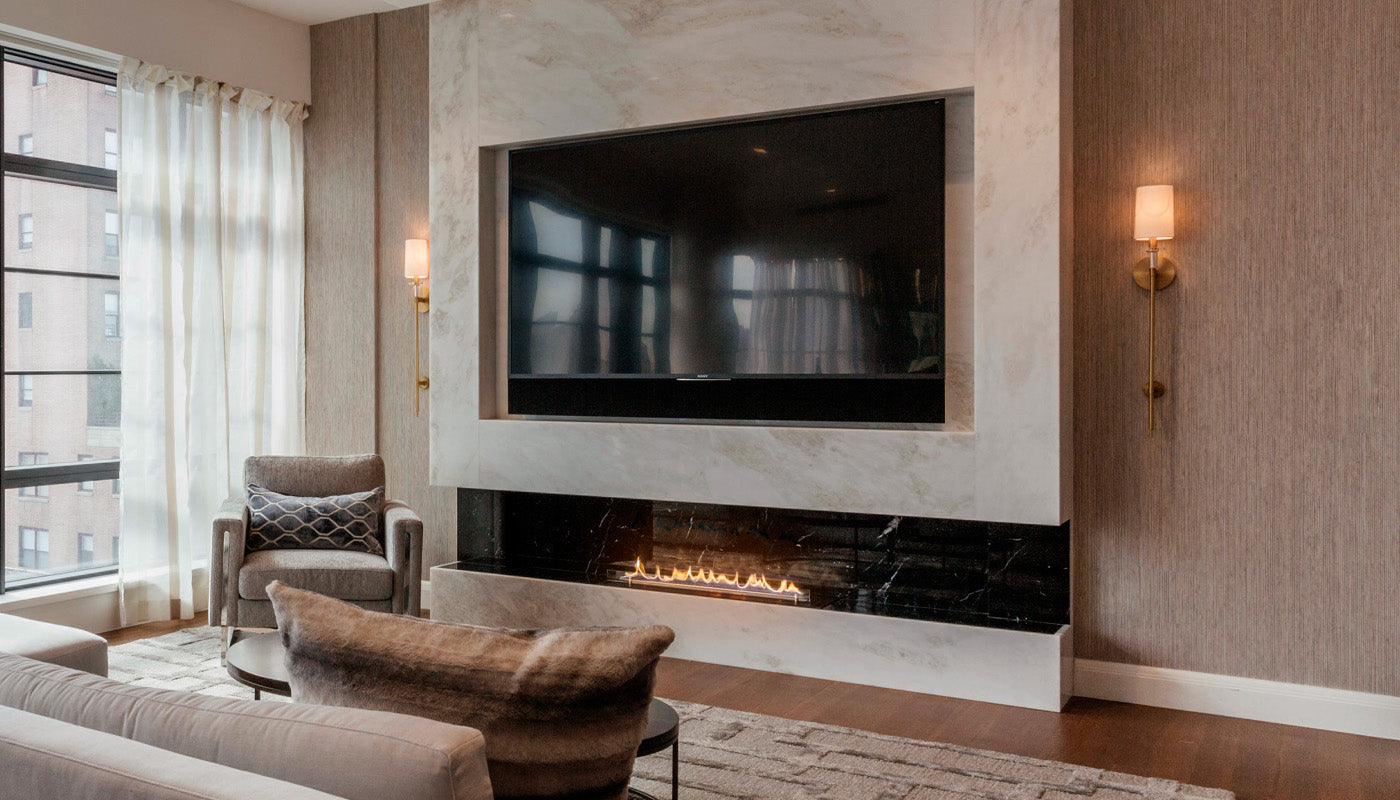 Media Wall Fireplace Solutions
Interior design is continually evolving to embrace modern living and technology, with one notable transformation being the integration of fireplaces into media walls. The ability to combine the warmth and elegance of a fireplace with the functionality of a media wall is now made simpler due to the compact nature of bioethanol fires. They require no chimney and can easily be cased in a fireproof surround that can then slot in to a media wall. This creates a seamless and visually appealing focal point in your living space.
The beauty of inset bioethanol fires lies in their ease of installation. Unlike traditional wood-burning fireplaces, bioethanol fireplaces require no flues, chimneys, or gas supplies, making them a cost-effective and hassle-free choice for media wall installations. They eliminates the need for extensive construction work and minimise disruption to your home.
Contact us
to start the process of installing your media wall fireplace.
Firefly's bioethanol fireplaces are also environmentally friendly, as they burn clean and produce no harmful emissions. Bioethanol is a renewable and sustainable fuel source, which aligns perfectly with the contemporary eco-conscious lifestyle. Moreover, the absence of soot, ash, and smoke means you won't have to deal with the arduous cleaning and maintenance that traditional fireplaces demand – potentially important in a stylish media wall for example.
Our commitment to safety is paramount, and our installers are professional, qualified and considerate. Bioethanol fires are equipped with advanced safety mechanisms to ensure worry-free operation, and we are readily available to assist with any questions or concerns.
Inset bioethanol fireplaces are not only easy to install, environmentally responsible, and visually striking, but they also provide the warmth and ambiance that fireplaces are loved for. With Firefly, you can effortlessly create a stunning media wall that combines the allure of a fireplace with the convenience of modern living, enhancing the beauty and functionality of your home.
Contact us
if you would like a comprehensive solution to incorporate a modern fireplace into your media wall.