No chimney required
Bioethanol fires burn cleanly and efficiently, producing no smoke, no ash – and practically no greenhouse gas emissions. This means there's no need for a chimney or flue, which in turn allows installation in areas of your home that otherwise might not be possible, including islands and media walls. They're a great choice for those looking for the ambience of a traditional fire without the hassle of a wood-burning stove.
We offer a wide range of sizes and styles, from freestanding models to built-in and wall-mounted units, that can be easily installed in any room. Bioethanol fires provide unmatched convenience and style, not to mention eco-credentials.
Understanding the options available
Bioethanol fires come in many forms, this should help choose the right fire for you.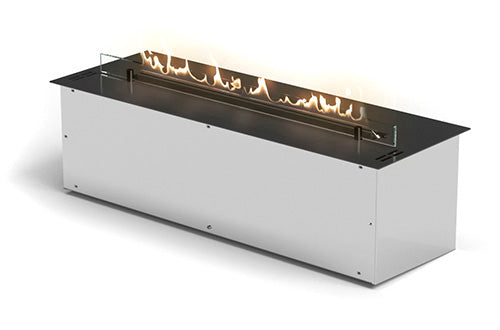 Burner inserts
Bioethanol burner inserts come in a wide range of widths, and consist of a steel case containing a fuel tank that is connected to the 'fire line' at the top of the insert. Fuel is pumped to the fire line and ignited either manually or automatically, depending on the brand and model. Some models have extra safety features and a wider variety of flame heights than others, with remote control and app control available on higher-spec models.
Typical use
Feature walls and dividers
Media walls
Islands and plinths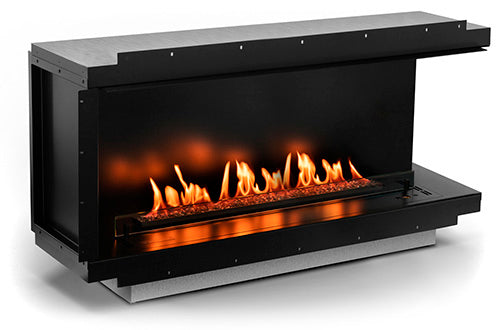 Fireplace casings
Most burner inserts can be paired with fireplace casings available from the same brand, and built into existing or new-build architecture. The casing provides support and structure for your preferred fireplace configuration. These can be single sided for a basic front-facing fireplace, or open at one or both corners for two or three-sided fireplaces. The casings can be built-in to practically any surrounding materials.
Typical use
Feature walls
Media walls
Multi-aspect spaces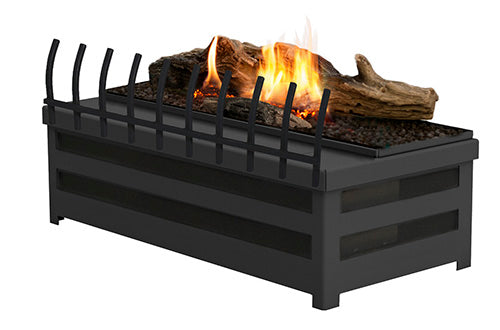 Free-standing fireplaces
Free-standing fireplaces are ideal for those spaces where installing a built-in fireplace isn't convenient or even possible. They're compact, and provide a great alternative for those who want the cosiness of a wood-burning stove without the hassle. Some models include ceramic logs, stones plus an optional grate – to resemble a traditional fireplace. And theres literally no installation required, simply plug and play for instant warmth.
Typical use
Retro-fit fireplace
Ideal for smaller spaces
Alternative to wood-burner